Campus Recruitment: Know Before You Go.
Employee Benefits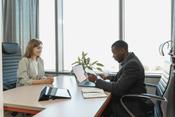 Campus recruitment season is almost upon us, busier now than ever with hybrid recruiting options creating an even deeper talent pool. The flipside is that hiring teams have to work harder to stand out, attract, engage and hire.
Gen Z's introduction to the world of work the last while has been… interesting. When considering career paths, they will look for employers who understand and appreciate their unique outlook. They will choose employers whose salary, benefits and culture offer them a safe and secure place to land and build a career.
To reach Gen Z in 2023, it could help to understand some of what they value.
Learning
70% of new jobs in Canada require post-secondary education. Gen Z values learning and education and is doing its part to meet the standard. Even though for the majority, 56%, it means going into debt off the bat, knowing they could be in repayment for ten years or even longer.
Empathy
Gen Z watched from their virtual classrooms as a pandemic put the world on pause and raised the curtain on workplace culture. Gen Z values transparency, they want and need to know their employer cares about their wellbeing.
Financial Wellness
Gen Z faces the same financial pressures as older employees –inflation, rising interest rates, housing affordability. Gen Z values security and will look for salary and financial wellness benefits to provide financial stability and give them hope for their future.
Gen Z: See Them, Hear them
Your Gen Z campus recruits face economic obstacles not seen in decades. in 2023, Gen Z values equity and will search for jobs and welcome benefits that help create affordability and improve their daily lives and their financial outcomes. In turn, when Gen Z feels heard and valued at work, they will reward their employer with loyalty.